Shopping Basket
Your Basket is Empty
There was an error with PayPal
Click here to try again
Thank you for your business!
You should receive an order confirmation from Paypal shortly.
Exit Shopping Basket
One of the first things that came to mind when we decided to renovate the kitchen was a farmhouse sink.  It had been a dream of mine from long ago for the future house. I mean long ago since we lived in a mobile home that we purchased when we first got married. Yes, I said mobile home. It was our first home together. It was new. We bought 3 acres and planted it out on a hilltop in God's Country. We raised our children there for 6 years until we got enough money to buy a house. After that we rented it out for a while. It didn't take us long to figure out that most people don't respect your property like you do. We then sold the house and sold the land back to the company that we bought it from. We made a small profit off of the land and that helped us get started in our new home. This was way back when all I ever dreamed about was white kitchens and solid white fluffy rooms. The word "farmhouse" was not a thing. Painted furniture was not heard of here in the South. The only trace of painted furniture was leftover remnants of what was left behind by the 70's bad glazing trends. I would see beautifully painted antiques on Ebay under the name "Red Barn Antiques". For years I told Paul that is what we needed to do. I was thinking the Ebay thing of course. No way did I ever think anyone around here would want painted furniture. I was alone in my world of painted furniture as far as Southern Alabama was concerned. I just thought that white looked clean and comfortable. I knew that if things were white I could tell if they were dirty. That was the life I wanted with 4 kids. Call me crazy but that was the direction I was heading in. It wasn't until many years later, that I started doing it for others. 
 We closed on our new house the week of Katrina.  After she went through we immediately started painting and renovating. I can still remember one of the first days that Paul came home from work and peeked through the sidelights of the front door. He said, "You painted the bricks?" in utter horror.  I could hear him from outside with the door shut. That was the brick fireplace of course. It didn't take me long to conform him into my way of thinking. When we purchased this house, it had linoleum flooring in the kitchen. It was coming up and would actually stick to your feet when you walk through the kitchen. I would almost give anything to have before pictures of this house. We had mustard daisy wallpaper in the kitchen. Peacocks from the dinning room to the foyer. Almost every inch of this house was plastered in 70's wallpaper. Yellow shag carpet graced every square foot of flooring that did't have linoleum with the exception of parkay wood flooring in the foyer. We picked out new tile and got it laid in the kitchen. New appliance came little at a time. Many years later we removed the old shag carpet and replaced with heart pine. This has been a slow renovation. When I say slow, I mean a 15 year renovation. We still have one room left to floor. Our room of course. This new kitchen renovation, by the way was not a planned happening. This is our second kitchen renovation here. It came about because our tile started cracking. Come to find out our joist were giving way. There was no underlayment under the house and it caused the joist to rot. Our house is build on a crawlspace. When you have a house on a crawlspace, you should have a moisture barrier on top of the ground to prevent ground moisture from coming up and rotting the wood under your house. It was just something we assumed was done before we bought the house. This house was built in the 70's. Not sure if the previous owners did not know or if they were just not aware this should have been done. Something I will never do again is buy a house that is not on a concrete slab.
 So in December of 2019 we decided to bust up our tile flooring and see what we were looking at. When we discovered that our joist were rotting we were faced with no choice but to replace them ourselves. What could have been a 25-$30,000 professional job was not an option for us. Not only was this not in our budget, it is something that Paul just does't do. He does't hire help. (Insert eye roll emoji here). I knew this was about to be a long process but I was not up for the flooring of my house to be open to nothing more than a tarp for the next month. At times I thought this would never end. Some nights I was scared that may be a possum would sneak in. If I heard the faintest sound I would yell squirrel. So you say, quit complaining and help the poor boy. I did. I did indeed. I crawled under the house and helped lay the underlayment. I scrubbed mold on the wood subfloors laying on my back. I helped and did everything I could to lessen the burden on him. To my surprise there was barely a living thing under the house. No spiders and super clean with the exception of  a little mold. Together we did it. We finished replacing the joist and sealed up our floors. We decided to continue the heart pine into the kitchen. Our goal was to finish this house off to the best of our ability for the new owners whether it be our children or someone we don't know. Did I mention that before breaking open the kitchen flooring in December of 2019, we purchased 15 acres to build our forever home on? Nah, I left that out. Well, we did. It still sits there today as it did when we purchased it in Feb 2018. To be fair, when we purchased, I had no intention of rushing to build. We planned on focusing on our business and building when we got around to it. That does't bother me at all. I have drawn out the floor plan for that house square foot by square foot and when we get to it we get to it. If we should decide not to that doesn't bother me either. Although the property has absolutely stunning views, my heart has always been to build in Union Church which is the northern part of Grand Bay. The Dawes Road or Jeff Hamilton Road area would be perfection. I missed my opportunity a few years back when a 10 acre plot came up for sale at $110,000. I was too late when I called. It was already pending. Property in that area of Grand Bay rarely becomes available. Most is family farm land and gets passed from one generation to the next. Being that we have a horse and will be building a barn,  we would have to have at least 10 acres. We have agreed that if the opportunity arrises in that area we will sell the 15 acres that we have. Hence, I'm not in a rush to build. 
Today we added lighting to the inside of our cabinets. I chose this set of 3 puck lights 
https://fxo.co/9w7K
from The Home Depot. Out of all the lights they had, this set made the most sense for us because we needed linkable lights. I had one outlet installed above the cabinets so that we could do our own lighting when we were ready. If I didn't choose the linkable light sets I would have need 4 outlets to plug into.  I really wanted the set with remote since I won't be able to turn these off and on without climbing somewhere but the remote set was battery operated with double stick tape to hold it in. I felt like we needed something better since the home may belong to someone else eventually. I hate for lights to start falling long after we are gone.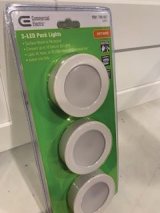 These were super easy to install since we were able to move our cabinets to the floor and work on the tops. Honestly I don't know that I will ever attach these cabinets to the wall unless it's for the new owners when we move out. It has been super convenient moving them around. If we would have attached them when we first put them up, I would have never been able to change them when I figured out I wanted the small cabinets on bottom instead of the top, which is how I originally designed them. Thank goodness for honest daughter's that give their opinions. I sent Cassidy pictures of the small cabinets on top and a pic of them on bottom. She said they look like they are upside down in the first picture. lol. I never noticed until she pointed it out. We flipped the small cabinets to the bottom and then I though, why did I not think of this from the get go? Instant breadboxes and now I can actually use the tiny cabinets instead of them being way up by the ceilings. I love the look of them on bottom. Getting back to installation, these took less than 30 minutes for each side. Paul used a hole saw bit
https://amzn.to/35vo45C
that he attached to his drill. He uses a Milwaukee m12 drill 
https://fxo.co/9w7M
from Home Depot. A great deal at only $99.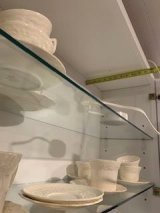 To get started you will need to measure out and mark your spot. I wanted mine centered in the middle of each glass door. We measured out and marked our spots. Then Paul attached his hole saw bit to his screw gun and went at it. After we got the hole cut we noticed that the puck light would not go down into the hole because of the plug sticking out the side. You would think the light company would have had this figured out by now since these lights are used a lot for sinking into cabinets. Our cabinets are standard thickness so I just wonder how everyone else is working this out. Thankfully we have a router 
https://fxo.co/9w9J
 so we routed into the top of the cabinet until the puck fit snug with the plug falling into the sunken spot. Yay! It's in. After that we put the cabinet back up in place, cleaned up our mess, and flipped the switch.  I have to plug this Milwaukee shop vac real quick so hold up. 
https://fxo.co/9wA5
 It's absolutely the best thing we have ever purchased as far as tools go. It beats lugging the big shop vac in from the shed. You can see how small and easy it is to carry around. I keep it under the kitchen cabinets. It's so easy to pull out and vacuum drawers with or to carry out to the car. This is a great Christmas gift for your guy too. What guy doesn't love Milwaukee anyway? Okay, so back to our project. For right now we threw the switch up on top of the cabinets but will soon be adding crown so I'll have to come up with a solution tomorrow. We can either run the switch and cord down the right back corner of the cabinet on the outside, putting it to the left of my sink or just leave it on all the time. I'm leaning towards leaving it on all the time.  Maybe we can add a trap door on the side just in case I ever need it off. I'm so pleased with how it turned out. I love it! Now just to add crown.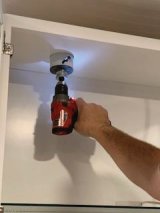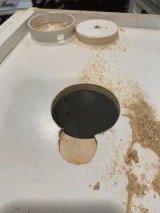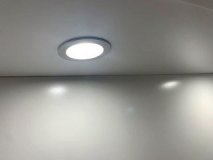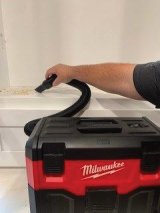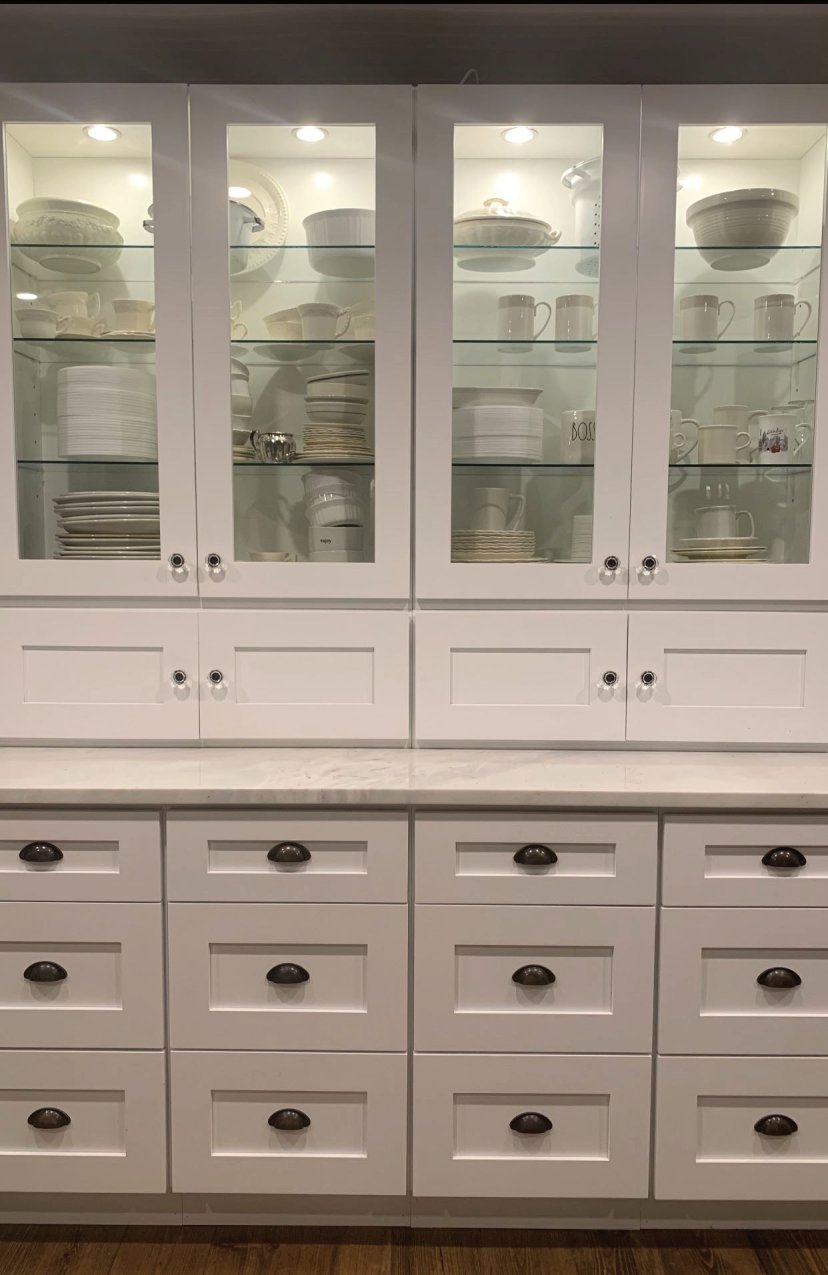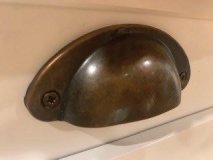 When designing my cabinets, one of the most important things to me was storage. Style was right up there but I knew I could incorporate my own style with pulls. I love the apothecary look these pulls bring to my cabinets.  These pulls can be purchased here.
https://amzn.to/3lIG4A7
 Where else can you get a 10 pack of pulls for only $7.15? Only here! These pulls are antique copper. I needed the bronze look to tie in with my faucet and hardware but the highlight of the copper edging to tie into my overhead copper lanterns. Stay tuned to see those. They do have full out copper you can also access from this link. I purchased those also for furniture I was refinancing at the shop. 
 As far as the single glass knobs go, I wanted something that was made stronger than the cheap ones you can get locally. I also knew that years ago Home Depot had some that were amazing, they even had the bronze on the base of the glass. They had been discontinued from the store long ago though. I knew they would be out there somewhere, I just needed to find them.  If they were anywhere to be found, Amazon would know. Ha! After browsing and playing with lots of key words I finally found them. I ordered and it was them. Made strong and tight with no give. I hit and beat one to make sure it would do the trick. Yes I did buddy. If I was putting these on my custom cabinets that I had just saved a lifetime for I was going to make sure that I would not have to change out in the next 30 years unless it was my choice. I wasn't going to deal with knobs falling off or coming unglued. I had too much invested. Well, the research has been done for you. Here they are 
https://amzn.to/3jUgaJ4
.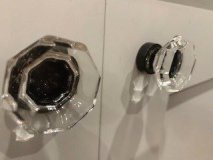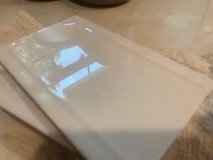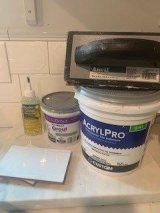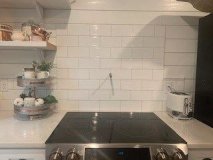 Here she is. I have to admit, I wasn't sure I wanted subway. In my mind, every home will have it in the next year if not already . I wanted something different and extra glossy. Without buying online, this is as glossy as I could find. It was close to subway but still a little different. I thought it wasn't different enough but now that it's up, I love! My biggest fear is that it would not fall in line with the shiplap. I was afraid one would be whiter than the other and give a dingy awkward look. As great as Pinterest is, I could not find any shiplap and subway combination kitchens that looked great. But hey mine is! This is my second tile job. I did my bathroom about 5-6 years ago. All by myself I should add. It was subway with a twist also. It was featured on fb 70,000 pics back. Tiling is definitely easier than you think. I think the hardest part is picking the color and style that you want. This tile is available at Home Depot, (tile link 
https://fxo.co/9vSZ
). The trim that you helped me pick also came from the depot, (trim link -
https://fxo.co/9vSj
) although we had to order some online. The one problem we came across in store is that most stores have discontinued the tile itself. We searched 2 hours away in all directions but everyone was out so we are thinking this may soon be discontinued in stores. I was so scared they would arrive in pieces but to my surprise they came bubble wrapped in the fat bubbles. They arrived flawless. We went with Delorean gray grout (grout link- 
https://fxo.co/9vSx
). I hear if you go too dark the flaws show up. I would have loved to have went white but realistically in a kitchen with lots of cooking, I did not want to do that to myself. Tiling sponge that we used - (
https://fxo.co/9vT8
), (tile adhesive -  
https://fxo.co/9vTT
). I bought a small tile cutter which was really handy for working late at night. (About $22, link here 
https://fxo.co/9vT5
). We ended up having to get another tile saw for the small cuts though. We went with the Ryobi 7" electric tile saw, (saw link 
https://fxo.co/9vSA
), it was amazing! We used this grout sealer, (
https://fxo.co/9vTO
) with an easy peasy brush. This is the float and trowel I used (float -
https://fxo.co/9vTb
, trowel 
https://fxo.co/9vTk
 ). The sealer was much easier than what I have used in the past. If I had waited for all my products to arrive, this would have been an easy 1 day project. I'm impatient so I started and then had to wait on the trim. It took 2 days total. I hope to get step by step instructions up at some point. Our next kitchen projects will be installing the pot filler behind the stove and building the overhead hood vent cover. Now on to 
@shop_blairsng
 to get some pumpkins!
/